SR Nagar Police Station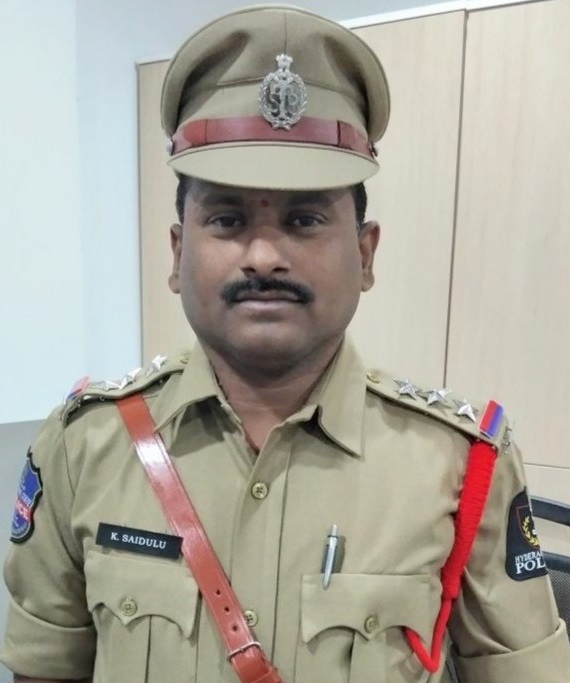 Name
K Saidulu (8712660499)
Designation
Inspector of Police
Role
SR Nagar PS SHO
LOCATION
Beside Nagarjuna High School. East Srinivas Nagar Colony, SR Nagar, Hyderabad.
SOCIAL NETWORK
PS Contact

040-27852386

8712661276

Petro Car 1 : 9154326528

Petro Car 2 : 9154326529

Petro Car 3 : 9154326530

sho-srn-hyd[at]tspolice
[dot]gov[dot]in
Division Details
ACP Office
Panjagutta Division
Phone No.
8712660406
Office No.
040 - 27852245
Email Id
acp-pg-hyd[at]tspolice
[dot]gov[dot]in
Zone Details
DCP Office
West Zone
Phone No.
8712660401
Mobile No.
040 - 2785 2255
Email Id
dcp-wz-hyd[at]tspolice
[dot]gov[dot]in
Sector Details
D.I
P V Rama Prasada rao
8712661069
DSI-1
D Srikanth Goud
8712661078
DSI-1
N Giridhar
8712661098
Admin SI
B Balraj
8712661079
Sector - 1
Swapna
8712661070
Sector - 1A
L Mounika
8712661075
Sector -2
P Pradeep
8712661071
Sector -2A
D Ravi Raj
8712661076
Sector -3
V Sandeep
8712661072
Sector -3A
CH Sravan Kumar
8712661077
Sector -4
A Ramanjaneyulu
8712661073
Sector -5
B Anjaneyulu
8712661074
Sector Area Wise
Sector-1 : Ameerpet, Leelanagar, Shyamkaram Road, DharamKaram Road, Shivabagh Colony, BJR Nagar New (PukatBasti), Nimakarnagar, Renukanagar, Harijanbasthi, Greenland, Gurudwara, Satyam Theater, Backside of Seshmahal Theatre, Indo US Hospital, Park Avenue Colony,Prabath Nagar, Sai Baba Temple, BJR Nagar Old, Food World, Prasanth Nagar.


Sector-1A : Srinivas Colony East, Kummarbasthi, GangabaiBasthi, Maitrivanam,SwarnaJayanthi Complex, Maitrivihar Complex, Aditya Enclave, Prime Hospital, Annapurna Block, SRT, 2 RT, MCH Ground, AnkammaBasthi, Passport Office, Aditya Trade Centre, Budha Nagar, Neelagiri Block

Sector-2 : SR Nagar, Balkampet, BK Guda, Model colony, Sundernagar colony, Ravindernagar colony, Jaiprakashnagar, Balaiah Nagar, Lingaiah Nagar, Subashnagar, DasaramBasthi, Sriram Nagar Colony, Czech colony, Tulasinagar, SRT colony, ESI, Bapunagar,Chanikya Nagar, Shyamalkunta, Uday Nagar, Aditya Nagar, St. Theresa Church & School, Swamy theatre, 60 feet road, Dasaram Basthi Huts.

Sector-3: Yellareddyguda, Sanjay Nagar, Tawakkal nagar, Ambedkarnagar, Jaiprakashnagar, Imamguda, Sriram Nagar, (Yellareddyguda), Three star, Engineers Colony, RBI Qtrs., KK Towers, Susheela Hospital

Sector-3A: Vengalrao nagar, Madhuranagar, Siddhartha nagar, Srinivasnagar west

Sector-4: Gokul Theatre, Erragadda, B Shankarlal nagar, South Shankarlal Nagar, Natrajnagar, Sultannagar, Donbosco School, Nandi Nagar, Balaji Swarnapuri Colony, Vikaspuri Colony, Mothinagar, Rajivnagar, Kalyannagar Phase-I, Kalyannagar Venture-II, , AG colony, , Fathima Nagar,Mothi Nagar,Kalyan Nagar Venture I, Kalyan Nagar Venture III, Saradhi Society, Jagaiah Basthi Sri Ram Nagar, HF Nagar

Sector-5: Borabanda, Vinayaka Rao Nagar, Raj Nagar, NRR Puram Site I, N.R.R. Puram Site-II, N.R.R. Puram Site-III, SRT Nagar, Swaraj Nagar, Banjara Nagar, PeeliDargah, Saibaba Nagar, Prabhath Nagar, Indira Nagar, Sajaya Nagar, Bharath Nagar, Peddamma Nagar, Jyothi Nagar, Jakkaiah Basti, Hi-Tech Hotel, YaddaiahBasti, Ambedkar Nagar
For any queries and suggestions regarding this website
please Email to web-pol-hyd[at]tspolice[dot]gov[dot]in
COPYRIGHT © 2022, HYDERABAD CITY POLICE.
Designed and developed by
NIC, Telangana