Saidabad Police Station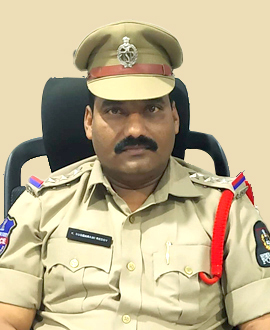 Name
K. Subba Rami Reddy
( 8712660580 )
Designation
Inspector of Police
Role
Saidabad PS SHO
LOCATION
Fire station road, chanchal guda x road, Saidabad x road, is sadan, Champapet. X road, green park colony . Saidabad main road, Hanafia mask, Gaddiannaram road Raghavendra hotel.
SOCIAL NETWORK
PS Contact

27854785, 27854980

8712661268

Petro Car 1 :

Petro Car 2 :

Petro Car 3 :

sho-sdbd-hyd[at]tspolice
[dot]gov[dot]in
Division Details
ACP Office
Malakapet Division
Phone No.
8712660507
Office No.
040 - 27854713
Email Id
acp-mlpt-hyd[at]tspolice
[dot]gov[dot]in
Zone Details
DCP Office
East Zone
Phone No.
8712660501
Mobile No.
040 - 27853630
Email Id
dcp-ez-hyd[at]tspolice
[dot]gov[dot]in
Sector Details
D.I
B. Chandra Mohan
8712660581
Admin SI
D. Shiva Kumari
8712660587
Sector - 1
G. Hari Krishna Reddy
8712660582
Sector - 2
Ch. Mamatha
8712660583
Sector - 3
L. Ravi Kumar
8712660584
Sector - 4
R. Sundharaiah
8712660585
Sector - 5
J Naveen
8712660586
Sector - 6
Gugloth Shivaji
8712660588
Sector Area Wise
Sector-1 : Start from Fire station, Government Printing Press, Electricity Substation, Chanchalguda X Roadm Saidabad Cross Roads, Ujale Shah Eidgha Ground, Stainly girl school, Jeevan yar jung colony, Zakir Hussain Colony, Ameen Colony, Mumtaz colony, Roseland colony, Bakerbagh Community Hall, Bakerbagh, Akberbagh, Sapotabagh, LIC colony, Madhav Nagar, Star Cafe, Press Colony, Dilkhush Function Hall, Fire Station road, Chanchalguda X Road and road covering from ACP office to Fire station.


Sector-2 :New Saidabad Colony and park, Karanbagh, SBH-ABC colonies, GA Quarters Phase-I & II, Sairam Nagar, VK Dhagyanagar, Triveni Nagar, Gaddiannaram, Shankeshar Bazar, Ashoor Kahna Shankeshwr Bazar, Saraswathinagar kaman to Shankeshwar Bazaar, Sunshine Colony, Hanafia Mosque upto Raghavendra Tiffin center Gaddiannaram main road of Shiva Ganga theatre.

Sector-3 : Old ACP Office, Sai Nurshing Home, Poosalabasthi, Jai Hind Hotel, Reddy Basthi, Ekalavya Nagar, Harijana Basthi, LCH Colony, 2-RT,3RT Colony, SRT Colony, Farah Colony, Kranthi Nagar, Green Land Colony, Jayanagar, Saidabad Colony, Lokayuktha colony, Indraprastha Colony- Phase-II old, 105 bus stop, Mathrusri P.G. College and Main road covering from Dhobighat x Roads to ACP Office and Saraswathi Nagar Kamaan, Saraswathi Nagar Kamaan Road via Badabagh, laxminagar, Biscuit factory to Dhobighat x Roads.

Sector-4: Hindu Samshan Vatika, IS-Sadan X Road, Saanvi Degree College, Bhojireddy Eng. College, Vinay Nagar Colony, Indraprastha Colony- Phase-I, Vani nagar, Poornodaya colony, Lakshmi Nagar colony, Prashanth Nagar colony, BSNL Quarters, Manohar Nagar, Chintal, Subramanyam nagar colony, Indraprastha Town Ship, MRO Office Champapet, NRSR Nagar Colony (Chintal Basthi), Reddy Colony, Champapet x roads and road covering from Dhobighat X Roads to Bharath Gardens x Roads.

Sector-5: Badabagh open land, Bholaxmi temple, Ghoshala, Pedda Thota, Krishna Nagar, Khaja bagh (slum), Madarsa Ashraf ul uloom Balaji Nagar, Srinivasa Nagar, Reddy Colony, Vishnu Nagar, Adharsh Nagar, Vaidehi ashram, Anadh Asharam, Saraswathi Nagar, Saraswathi Shisu Mandir School, Nagarajuna IT College, Singareni Ghanpur Huts, meter seal office, road covering from bharath gardens to Champapet x road upto laxmi gardens.

Sector-6: Bhanu Nagar, SN Reddy nagar, Singareni Officers colony, Singareni Huts, Singareni park, Vambay Quarters, Green park colony, keshava Nagar, Shankeshwar Bazar Colony, Gareenpark Colony Kaman, Champapet main road and road covering from laxmi gardens to City café, green park colony khamaan to Shankeshwar bazaar patrol bunk to City café.
For any queries and suggestions regarding this website
please Email to web-pol-hyd[at]tspolice[dot]gov[dot]in
COPYRIGHT © 2022, HYDERABAD CITY POLICE.
Designed and developed by
NIC, Telangana