Rein Bazar Police Station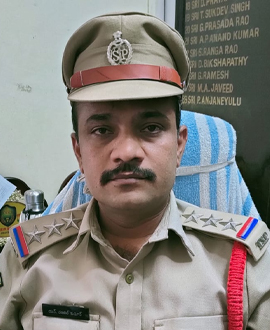 Name
N. Ranjith Kumar Goud
(8712660370)
Designation
Inspector of Police
Role
Rein Bazar PS SHO
PS Contact

040-27854781

040-27854978


Petro Car 1 :

Petro Car 2 :

sho-rbzr-hyd[at]tspolice
[dot]gov[dot]in
Division Details
ACP Office
Mirchowk Division
Phone No.
8712660306
Office No.
040 - 27854719
Email Id
acp-mck-hyd[at]tspolice
[dot]gov[dot]in
Zone Details
DCP Office
South Zone
Phone No.
8712660301
Mobile No.
040 - 27854760
Email Id
dcp-sz-hyd[at]tspolice
[dot]gov[dot]in
Sector Details
D.I
Mohammed Shakeer Ali
8712660369
DSI
D.Venkateshwarlu
8712660375
Admin SI
SK Nasrin Begum
8712660376
Sector - 1
B. Vinod Kumar
8712660371
Sector - 2
B.Narasimha
8712660372
Sector - 3
K. Rajashekar Reddy
8712660373
Sector - 4
SK Nasrin Begum
8712660374
Sector Area Wise
Sector-1 : Moula ka Chilla, Aman Nagar-A, Rangeli Khidki, Rehmath Nagar, Shoukath Jung Ki Devdi, Talabkatta, Chunne Ki Batti, Yeshrab Nagar, Imliban, Somanth Temple Area, East chandra Nagar, West Chandra Nagar


Sector-2 :SRT Colony, Super Bazar, Imamabada, Baiyaka Bagh, Surya Jung Ki Devdi, Naushad X Roads, Yakuthpura Railway Station area, Wahed Colony, Zora Bee Dargha Area, Rein Bazar Chaman, Harijan Basthi, Madannapet Water Tank, Hanuman Temple Area

Sector-3 : Retiki Masjeed Area, Azeem Cycle Taxi, Chowni Nade Ali Baig, 82 Bus Stop Area, Gav Ka Mela, Chanchalguda Jr. College Area, Shah Colony, Gudi Bowli, Dabeerpura Railway Station

Sector-4: Ganga Nagar Nala, Bada Bazar X Roads, Shaik Faiz Khaman, Matha Ki Khidki, Pathar Ka Makhan, Bibi Ka Alawa, Ali Cafe, Kamaleki Masjid, Sunar Galli, Gandhi Statue, Naga Bowli, Sontepeer Darga Area
For any queries and suggestions regarding this website
please Email to web-pol-hyd[at]tspolice[dot]gov[dot]in
COPYRIGHT © 2022, HYDERABAD CITY POLICE.
Designed and developed by
NIC, Telangana