Humayunnagar Police Station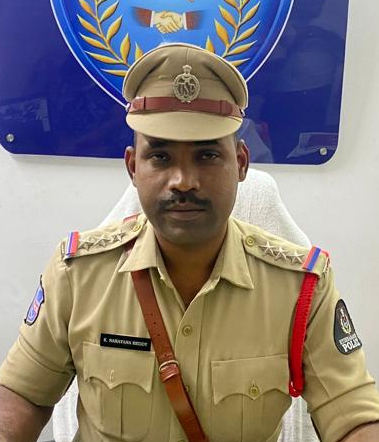 Name
Sri. K Narayana Reddy
(8712660420 )
Designation
Inspector of Police
Role
Humayunnagar PS SHO
PS Contact

040-27852443

8712661274

Petro Car 1 : 9154326519

Petro Car 2 : 9154326520

sho-hum-hyd[at]tspolice
[dot]gov[dot]in
Division Details
ACP Office
Asif Nagar Division
Phone No.
8712660407
Office No.
040 - 27852499
Email Id
acp-an-hyd[at]tspolice
[dot]gov[dot]in
Zone Details
DCP Office
West Zone
Phone No.
8712660401
Mobile No.
040 - 2785 2255
Email Id
dcp-wz-hyd[at]tspolice
[dot]gov[dot]in
Sector Details
D.I
Sri. Samula Koteshwar Rao
8712660421
DSI
Md. Ahmed Pasha
8712660418
Admin SI
N Raju
8712660419
Sector - 1
M Bhavani
8712661086
Sector - 2
L. Rajesh
8712660424
Sector - 3
N. Raju
8712660419
Sector - 4
N. Vinod Kumar
8712661085
Sector - 5
Srinivas Reddy
8712660422
Sector Area Wise
Sector-1 : Shanthi Nagar, PS Nagar, Kotamma Basthi, ITI Guild, Ganesh Temple Lane, Vijay Nagar Colony, Andhra Bank Lane, Higher Education, Govt Polytechnic College, Shankethika Vidya Bhavan .


Sector-2 : Pochamma Basthi, First Lancer, Ahmed Nagar, MG Nagar, Dhobi Ghat, Nehru Nagar, Owasipura, Bada Bazar, Nai Basthi, Masab Tank, DSS Bhavan, Police Officer Mess.

Sector-3 : Al-Hasanath Colony, Nizam Colony, Tolichowki, Meraj Colony, Yosuf Tekdi, Military Area, Asif Nagar Filter Beds.

Sector-4 : Humayun Nagar, Kailash Nagar, Rythu Bazar, Royal Colony, Venkatadri Nagar.

Sector-5 : Laxmi Nagar, Al-Sabha, MRO Office, Vijay Nagar Colony, KGN X Road, Indira Nagar Colony, Feroz Gandhi Nagar, Taj nagar, Priya Talkies Road, Anjuman.
For any queries and suggestions regarding this website
please Email to web-pol-hyd[at]tspolice[dot]gov[dot]in
COPYRIGHT © 2022, HYDERABAD CITY POLICE.
Designed and developed by
NIC, Telangana