Law and Order


The City is divided into Seven Zones viz., Central, East, North, South, South East, South West and West Zones. Each Zone is headed by Dy. Commissioner of Police. Each Zone is further divided into Divisions and each Division is headed by Asst. Commissioner of Police. Each Division comprises of certain Law & Order Police Stations and each Law & Order Police Station is headed by Inspector of Police as Station House Officer.
There are 28 Divisions and 71 Law & Order Police Stations. The Law & Order Police Station has crime detachment and all Police Stations have Detective Inspector / Addl. Inspector who looks after the property offences in his jurisdiction. There are 7 Women Police Stations, apart from 71 Law & Order Police Stations.
The Hyderabad City Police has Law and Order commitments throughout the year, most of which are related to Festivals, Important Events, VIP Visits, Dharnas and Agitations.
In this backdrop, Hyderabad Police strives to provide a safe, secure, peaceful, and hassle-free life to its citizens and establishments, in wake of besides maintaining communal prevailing security scenario and challenges besides maintaining Communal Harmony, Law and Order, Prevention and Detection of crime under all heads including White-Collar Crimes and Cyber Crime etc.
Know Your Police Station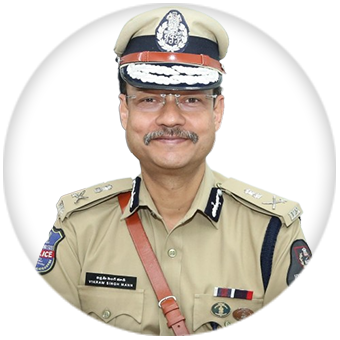 Sri Vikram Singh Mann, IPS
Addl Commissioner of Police,
Law & Order , Co-ordination
Email
:
addlcp-lo-hyd@tspolice.gov.in
Landline
:
040-23261777, 27852738
For any queries and suggestions regarding this website
please Email to web-pol-hyd[at]tspolice[dot]gov[dot]in
COPYRIGHT © 2022, HYDERABAD CITY POLICE.
Designed and developed by
NIC, Telangana